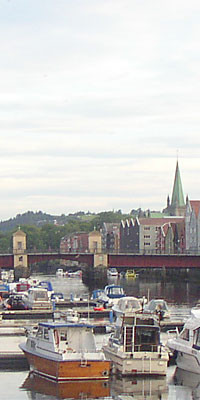 Trondheim Norway
Trondheim is the main city of mid-Norway and a major university town - most of Norway's top engineers graduate here. It was a royal town until 1217 and like most other Norwegian towns it has had a long history of major fires, with the 1681 fire leading to the total reconstruction of the city, with wide streets (to control fires).
What's in a name?
Originally called Kaupangen (meaning marketplace), the city was called Nidaros (meaning mouth of the river Nid - which is where it is) until the late middle ages, when it was renamed as Trondheim or.Trondhjem
In 1930 the old name of Nidaros was reimposed, causing unrest and riots, so it reverted to Trondheim. The cathedral is still called Nidaros however.
Cruise ships
The city sees many cruise ships in the summer season, and the
Hurtigruten Norwegian Coastal Voyage
ships pass through each way every day of the year.
The cruise ship and Hurtigruten terminals are the least attractive part of town (unusually, for Norway) so get past them and the ugly railway yards and discover a truly lovely city beyond.
Attractions
There are several good museums in the Trondheim area, and the Cathedral (Nidarosdomen) Munkholmen island, DORA 1 WW2 submarine base, Kristiansten fortress, Stiftsgården royal residence, and Nordre gate shopping are all popular.
Solsiden has lots of nice restaurants and bars, and there are many other good places if you follow the river upstream, or wander through the town.
Festivals and Events
There are festivals and special events in Trondheim including the international student festival, a chamber music festival and a film festival
Accommodation
Our
Hotel room booking system
is unique - combining results from hotel chains with hotels you won't find anywhere else - and you see everything available for your dates.
Our new
self-catering accommodation booking system
lets you book cottages (called a hytte here) and apartments in the region.